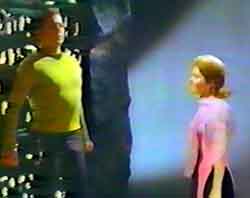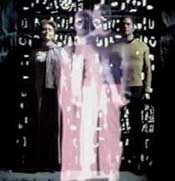 Dr. Janice Lester Trades bodies with Captain Kirk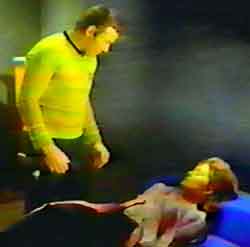 CLICK ON PIC TO WATCH
  Dr. Janice Lester, who was once involved with Captain Kirk, harbors a deep hatred of the captain, because she, herself, has never been able to captain a starship. On their way to Beta Aurigae, the U.S.S. Enterprise receives a call for help from Camus II. The landing party finds only Janice Lester and Dr. Coleman, who claim that the everyone else was killed by celebium radiation. In fact, Janice is quite ill from it.
   Unaware of Lester's feelings of hatred toward him, Kirk sits with her, recalling their days together. Kirk is suddenly trapped into a life-entity transfer with Janice. His personality is in her body, while she takes over his, finally becoming captain of a starship. Kirk, with Janice's essence, tries to kill her victim, but fails. McCoy transports Janice, with Kirk's essence, to sickbay to try and treat her illness. While Kirk, trapped in Janice's body, tries to convince everyone that he's really the captain, Janice takes control of the ship and diverts it to the Benecia Colony. There she plans to leave her body, that houses Kirk's essence, thereby eliminating all her problems.
   The crew becomes suspicious of her actions and, when Spock tries to question her, she charges him with mutiny. They realize something is wrong and Janice/Kirk is relieved of duty. When the transfer weakens and finally breaks, Kirk returns to his body, as Janice's essence returns to hers. Janice makes a last attempt to hurt Kirk, then collapses. Dr. Coleman, in love with Janice, requests that he be allowed to care for her. The U.S.S. Enterprise and her crew return to their mission, with their rightful captain at the helm.